Last Friday, I enjoyed a bit of free time to visit the exhibition of fashion photographer Guy Bourdin at the Somerset House in London. "Image Maker", the title of the show, refers to the diversity of techniques used by the photographer to create or, rather, "make" images. Polaroids, Super 8 films, painting and preparatory sketches, this perfectionist juggled with mediums, always looking for the ideal composition. His coloured images revealed a fantasized reality where the grass is definitely greener than in our gardens.
From Man Ray, of whom he was the protege, he inherited a provoking and surrealistic soul. The series of photographs shown in the first room, often designated as "Walking Legs", is a perfect example of that spirit. In 1979, influenced by the American dream, Guy went to do his own road trip in a Cadillac but on the other side of the Channel. Although the United Kingdom is in principle a less glamourous destination, he succeeded in transforming  the landscapes from Brighton, London and Wales into a set from a Hollywood movie. Sole actress of that drama: a pair of mannequin's legs.
Whether they are laying down in the bed of a hotel room, the Charles Jourdan shoes flippantly thrown on the floor, or in front of the busted metal gate of a seaside car park, Guy Bourdin manages to inspire an almost  disturbing humaneness to those legs. The viewer cannot prevent himself/herself to imagine, or actually see moving the owner of those elegant and smooth limbs.
In the above photograph, the particularly pink roses remind me of Alice in the garden of the Queen of Hearts, just after that she came upon the gardeners painting the white roses red. To avoid the death sentence, she flees the gardens hastily and struggles to move forward. Her high heels that sink in the fresh grass almost make her stumble. The photographer, fairly wicked, immortalized the moment when her ankles are about to twist, a second before the body falls.
In the pictures that follow this series, the body of the model resumes its position inside the frame. But even when it is made of flesh and blood, this body appears most of the time fragmented or in uncomfortable situations… And when the face is also there, it is behind a dazzling, doll-like makeup. In front of this artifice, the viewer will probably end up finding the legs of a dummy wandering around landscapes more human than ones of a woman.
After the exhibition, I had a short walk along the Thames. The trees, the river, the cars and the sky seemed drab to me, as if they needed a splash of paint… Or quite simply the same shine than Guy Bourdin's images.
And to conclude, my favourite photograph of the show. A polaroid that I already noticed at the Rencontres d'Arles two years ago.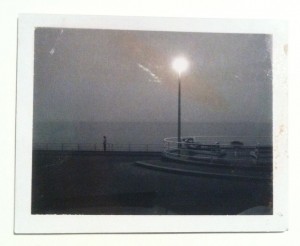 ---
Vendredi dernier, j'ai profité de mon temps libre pour visiter l'exposition du photographe de mode Guy Bourdin à la Somerset House de Londres. "Image Maker", le titre de l'exposition, fait référence à la diversité des techniques employées par le photographe pour créer ou, plutôt, fabriquer des images. Polaroids, films Super 8, peinture et dessins préparatoires, ce perfectionniste jonglait avec les médiums, toujours à la recherche de la composition idéale. Ses images en couleur révèlent une réalité fantasmée où l'herbe est décidément d'un vert plus vif que celle de nos jardins.
De Man Ray, dont il fut le protégé, Guy Bourdin hérita d'une âme à la fois provocatrice et surréaliste. La série de photographies présentée dans la première salle de l'exposition, souvent désignée sous le titre "Walking Legs", en est un parfait exemple. En 1979, influencé par le rêve américain, Guy prend ses cliques et ses claques et s'en va au volant de sa Cadillac mener son propre road trip, de l'autre côté de la Manche. Bien que le Royaume-Uni soit a priori une destination moins glamour, il parvient à transformer les paysages de Brighton, Londres ou bien du Pays de Galles en plateau de tournage d'un film hollywoodien. Seule actrice de ce drame, une paire de jambes de mannequin.
Qu'elles soient allongées dans le lit d'une chambre d'hôtel, les chaussures Charles Jourdan jetées sur le sol avec désinvolture, ou bien devant la barrière de métal déglinguée d'un parking de bord de mer, Guy Bourdin parvient à insuffler à ces jambes une humanité quasi dérangeante. Le regardeur ne peut s'empêcher d'imaginer, ou même de tout simplement voir évoluer la propriétaire de ces membres élégants et lisses.
Dans la photo qui illustre cet article, les roses particulièrement roses me rappellent Alice dans le jardin de la Reine de Cœur, juste après qu'elle ait surpris par hasard les jardiniers en train de peindre les roses blanches en rouge. Pour éviter la sentence de mort, elle fuit en précipitation les jardins de la Reine et peine à avancer. Ses talons qui s'enfoncent dans l'herbe fraîche manquent de la faire trébucher. Le photographe, plutôt pervers, a fixé le moment où les chevilles sont sur le point de se tordre, quand le corps est prêt à tomber.
Dans les photographies des salles qui suivent, le corps du modèle reprend sa place dans le cadre. Mais même lorsque celui-ci est fait de chair et de sang, il apparaît le plus souvent fragmenté ou dans des situations inconfortables… Et lorsque le visage est présent, c'est derrière un maquillage de poupée aux couleurs éclatantes. Face à cet artifice, le regardeur finira sans doute à trouver les jambes d'un mannequin arpentant divers paysages plus humaines que celles d'une femme.
Après l'exposition, je fis une courte promenade le long de la Tamise. Les arbres, le fleuve, les voitures et le ciel me parèrent ternes, comme s'ils avaient besoin d'un coup de peinture ou bien du lustre des images de Guy Bourdin.
Et pour terminer, ma photo favorite de l'exposition. Un polaroid que j'avais déjà remarqué aux Rencontres d'Arles il y a deux ans.