[Partie
1
et
2
]
Le troisième jour à San Jose de Chiquitos nous apporte la promesse d'un départ. Nous déambulons une dernière fois dans le havre ecclésial et nous offrons un déjeuner de roi des tropiques : du porc et du riz dans une délicieuse sauce à l'ananas.
Dans l'après-midi, nous gagnons à pied la gare routière le long de la route principale. Les quelques hôtels à palmiers, piscines et l'air abandonné sont la trace de l'existence d'autres touristes, tous les deux ans, lors du festival de musique baroque. La masse bétonnée de la gare apparaît enfin dans un nuage de poussière. Nous sommes un peu en avance et tuons le temps en observant la faune qui anime le hall. Deux têtes blondes, presque blanches, dépassent toutes les autres qui sont, elles, noir de jais. Deux hommes, l'un jeune, l'autre assez âgé, tous deux en salopettes, sont accompagnés d'une femme en longue robe et grand chapeau de paille rappelant le style du dix-neuvième siècle. Leur pâle présence nous plonge dans un espace-temps anachronique. Nous apercevrons d'autres mennonites pendant notre séjour dans la province. Ils nous donnerons toujours cette impression troublante d'émaner d'un autre siècle ; leur silhouette-même dans cet environnement poudreux et ocre paraît être un oxymore.
Le bus arrive, ponctuel, mais son départ est à la mode bolivienne, c'est-à-dire avec une heure de retard. Le chauffeur et son aide débarquent et semblent à peine adultes. Leur chevelure est embroussaillée, la sueur leur colle à la peau ; signes d'un voyage peut-être plus long que ce que nous a annoncé leur collègue du guichet. Pendant qu'ils se repaissent d'un ragoût brûlant et se désaltèrent avec une limonade tiède achetée à une vieille vendeuse ambulante, nous patientons. Le bruit du moteur, quelques mouvements soudainement pressés et nous nous retrouvons assis sur nos sièges déglingués à transpirer derrière la vitre tachée. Peu de gens sont montés par rapport à la foule qui avait congloméré autour de l'engin. Comme les trains, les bus semblent être ici une petite attraction, et ce malgré leur relative fréquence.
Bientôt, le soleil décline et caresse de sa main rose orangée les plaines tropicales plantées de palmiers esseulés. Nous profitons de ces dernières lueurs pour nous abreuver du paysage car la nuit tombe vite ici. Le voyage est lent en raison de l'état de la route et parce que le bus s'arrête quelques fois pour faire monter des hommes et des femmes qui semblent surgir de nulle part. Environ trois heures plus tard, soit la moitié du voyage, nous nous arrêtons plus longtemps et le chauffeur sort pour aider à remorquer une voiture. Trois hommes bruyant grimpent dans le bus. Autre arrêt : ils descendent, chargent de nombreux bagages et sont rejoints par deux autres hommes tout aussi sonores. La voiture est laissée en plan devant une baraque où se profile une ombre humaine sur le pas de la porte. L'un des hommes assis derrière moi pose son pied nu aux ongles longs et noirs sur mon accoudoir. Je prie pour que leur destination arrive rapidement.
Je suis plongée dans un livre pour oublier la lenteur, la chaleur, le pied, quand les phares d'une voiture viennent déchirer l'obscurité et stopper le bus dans sa marche. Des policiers montent à bord. En bande-son : le chants des insectes nocturnes et les battements de mon coeur. Nous sommes les seuls étrangers et notre différence me paraît être un éventuel problème. Ils marchent lentement dans le couloir, scrutant chaque visage, et leurs chaussures luisantes s'arrêtent justement à notre rangée. Mais au lieu de nous parler, ils s'adressent au groupe haut en testostérone de derrière. Je vois la main du policier à côté de moi empoigner un petit revolver rendu mat par le temps. Le pied décolle de mon accoudoir. Il leur demande calmement de se lever et les force vers la sortie. Ma prière a été entendue. Nous ne sommes, pour autant, pas près d'arriver. Un autre stop, cette fois sur la place principale d'un village. Entouré de probablement tous les habitants, les policiers sortent plusieurs sacs et bonbonnes de gaz de la soute. En arrière-plan, une autre église jésuite est témoin de l'interminable scène. Je pars chercher des toilettes, recule devant une bande de chiens agressifs au détour d'une rue, puis finis par payer la tenante d'une épicerie pour utiliser les siennes. Le bus repart et nous nous endormons, le visage fouetté par le joyeux vent noctambule.
Il est minuit passé quand nous posons le pied à San Ignacio de Velasco. La ville est endormie, à part quelques éternels loubards canins qui ne peuvent fermer l'oeil de peur de se faire attaquer. Nous sonnons à la porte d'un hôtel qui reste désespérément close. En nous dirigeant vers un autre hôtel, nous balayons du regard les bancs de la place, le coeur un peu serré. Pourvu qu'ils nous ouvrent ! Le gardien de nuit passe d'abord sa tête entre les deux battants de la porte, nous jauge un petit instant puis nous fait entrer. Quelques minutes plus tard, nous nous glissons entre les draps blancs d'un lit au matelas confortable et sombrons peu à peu dans un sommeil entrecoupé de rêves de revolvers, cabots et orteils crochus.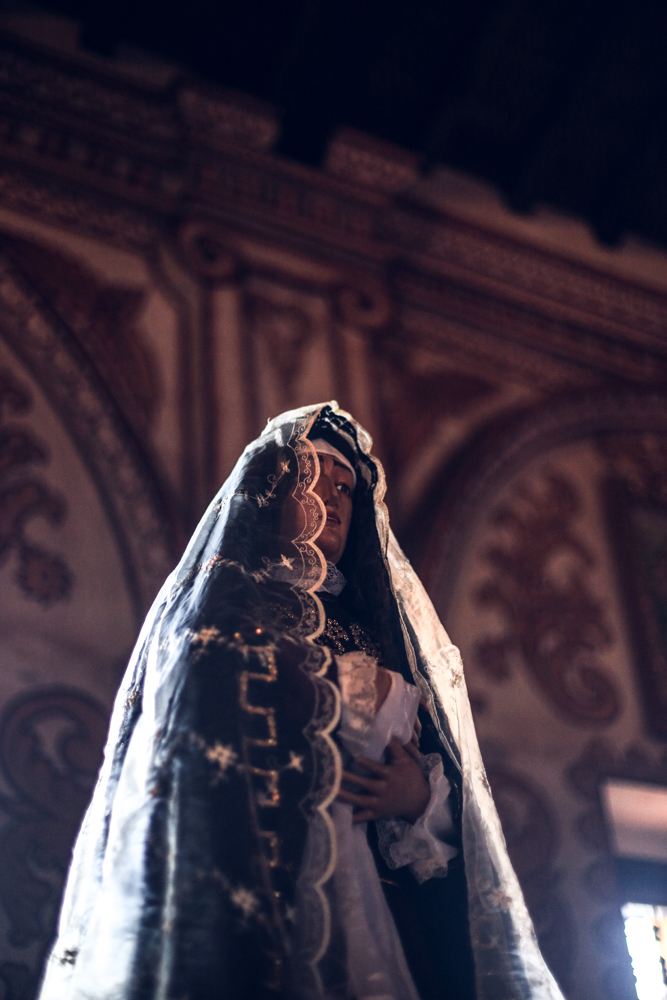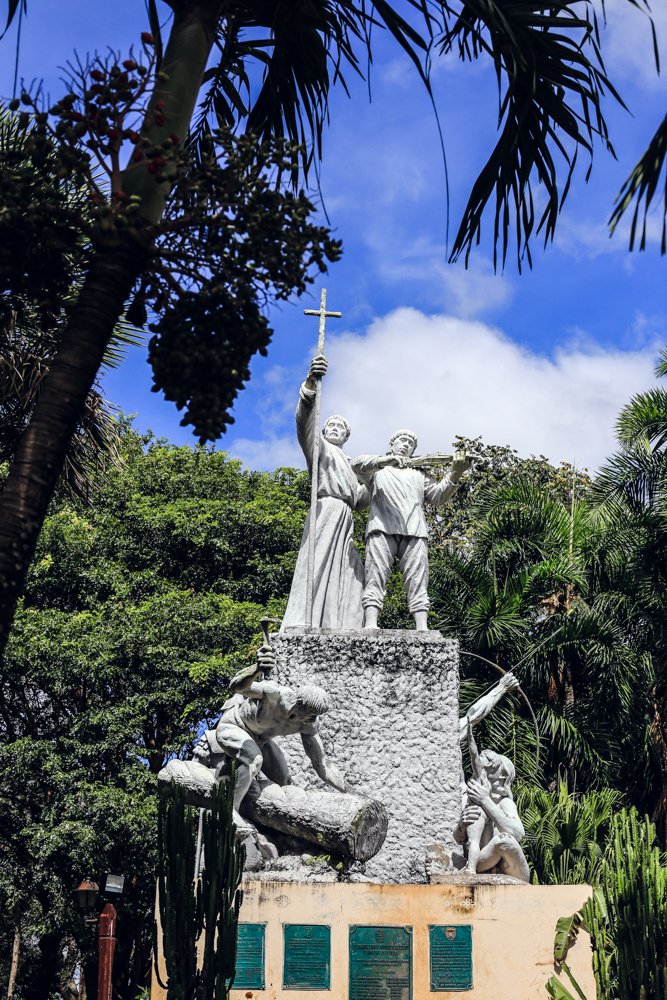 [Part 
1
 and 
2
]
The third day in San Jose de Chiquitos brings the promise of a departure. We walk one last time inside the haven of the ecclesiastical walls and treat ourselves to a king of the tropics type of lunch: pork and rice in a delicious pineapple sauce.
In the afternoon, we walk along the main road to the bus station. The few hotels with palm trees, pools and an abandoned look are traces of the other tourist's presence, every two years, during the baroque music festival. The concrete mass of the station finally appears in a cloud of dust. We are a little early and kill time by gazing at the denizens who fill the hall with life. Two blond heads, almost white, stick out from the others which are jet black. Two men, one young, the other elderly, both in overalls, are accompanied by a woman wearing a long dress and a big straw hat in a nineteenth century fashion. Their pale presence plunges us into an anachronistic space and time. We will see more Mennonites during our stay in the province. They will always give us this uncanny impression that they emanate from another century; their silhouettes seem to be an oxymoron in this powdery and ochre environment.
The bus arrives, punctual, but its departure is Bolivian style, that is to say with an hour delay. The driver and his helper disembark: they hardly look like adults. Their hair is bushy and sweat sticks to their skin; signs of a trip that may be longer than what their colleague at the ticket office told us. While they feed on a hot stew and drink warm lemonade bought from an old female street vendor, we wait. The sound of the engine, some sudden rushed movements and we find ourselves sitting on our rickety seats sweating behind the smeared window. Few people got on compared with the crowd that had swarmed around the bus. Like trains, buses seem to be a small attraction here, and this despite their relative frequency.
Soon, the sun is sinking and caresses with its orange-pink hand the tropical plains planted with lonely palms. We take advantage of those last rays to drink in this landscape as the night falls quickly here. The journey is slow as a result of the state of the road and the bus stopping a few times to allow men and women, who seem to come from nowhere, to get on. Around three hours later, half the trip, we stop longer and the driver leaves his seat to help tow a car. Three noisy men climb on the bus. Other stop: they go down, load a lot of luggage and are joined by two other equally loud men. The car is left out in front of a shack where a human shadow is standing on the doorstep. One of the men is sitting behind me  and puts his bare foot with long black nails on my armrest. I pray that their destination will arrive quickly.
I am immersed in a book to forget the slowness, the heat, the foot when the headlights of a car tear away the darkness and stop the ride. Police come aboard. The soundtrack is the songs of nocturnal insects and the beating of my heart. We are the only foreigners and our difference seems to me like a possible problem. They walk slowly down the hallway, scrutinizing each face, and their shiny shoes stop at our row. But instead of talking to us, they turn to the high in testosterone group behind us. I watch the hand of the policeman next to me grabbing a small revolver which has become mat because of time. The foot takes off from my armrest. He calmly asks the group to get up and forces them to the exit. My prayer has been heard. We are not, however, close to our destination. Another stop, this time on the main square of a village. Surrounded by probably all the inhabitants, the police take out several bags and canisters from the hold. In the background, another Jesuit church witnesses the interminable scene. I leave to look for a toilet, step backwards in front of a gang of aggressive dogs, then end up paying a grocery tenant to use hers. The bus leaves again and we fall asleep, the face whipped by the joyful wind of the night.
It is past midnight when we set foot in San Ignacio de Velasco. The city is asleep, except for the usual canine hooligans which cannot close their eyes in fear of being attacked. We ring at an hotel's door that remains desperately closed. While heading to another hotel, we scan the benches on the square with our heart feeling a little tight. Let's hope that they open to us! The night warden first passes his head between the two panels of the door, gauges us for a moment and finally lets us in. A few minutes later, we slip between the white sheets of a bed with a comfortable mattress and slowly sink into a sleep interspersed with dreams of revolvers, mutts and crooked toes.