English version below.
Après la moiteur des boulevards de Buenos Aires, la pointe de la Patagonie se profilait en-dessous de nous, une promesse de fraîcheur et de beauté. Notre oeil attrapait au passage des morceaux de roches noires et blanches, d'eaux vertes et azures entr'aperçues à travers le blanc des nuages.
Dans la capitale, nous recherchions l'ombre des géants les acacias qui poussent comme de la mauvaise herbe et viennent envahir les balcons, même ceux du sixième étage. Ne pas trop s'approcher du bord des immeubles, au risque de recevoir une ou deux gouttes, à peine tombées mais déjà tièdes, d'un climatiseur. Nous avons beaucoup marché, arpenté les différents quartiers de cette ville qui m'a tant fait rêvée depuis ce film, Tetro. C'est ici que j'ai vu mes premières perruches citadines, dont le plumage vert citron se confondait avec les feuilles d'un des arbres de la Plaza de las Naciones Unidas. Souvent, ce qui me reste d'un voyage, ce sont les couleurs. L'indigo de la lampe boule du café Nostalgia au coin de notre rue, la boule ornée d'étoiles blanches qui se balance dans le vent, notre dernier soir et l'unique qui ait été un peu frais. L'argenté du bric-à-brac vendu par un vieux couple sur la Plaza Dorrego de San Telmo. Ce même éclat que je retrouve quelques mètres plus loin dans le marché couvert, dans le métal des étals d'un boucher alors fermé. Le marbre de couleur noire graphite des tombes qui contraste avec le sol de craie du cimetière de la Recoleta. Avant de déambuler dans le cimetière, nous nous étions assis un moment à l'ombre d'un arbre aux allures de titan et aux multiples troncs. Des chiens se poursuivaient joyeusement sous le regard amusé de leurs maîtres. Pendant ce voyage, nous avons passé beaucoup de temps assis sur des bancs, du temps passé à nous imprégner de l'atmosphère d'un lieu, d'une place, d'un paysage. En survolant la Patagonie, je n'éprouvais pas encore la mélancolie de ces moments citadins. J'étais trop heureuse de rejoindre ce bout du monde tant attendu.
En vrac :
notre taxi sympathique qui nous conseille de ne pas révéler ta nationalité à n'importe qui (mais qui ?)
le premier matin, se réveiller la première, s'émerveiller devant la vue de la baie d'Ushuaia, bleue céleste, éclairée par les premiers rayons jaune pâle du soleil
les oeufs à la tomate au petit déjeuner
les rencontres faites autour d'une ale de Patagonie
la lumière australe qui donne une clarté si particulière à chaque chose
de la tristesse en marchant dans le parc national Tierra del Fuego en pensant aux Selknams, Manekenks, Alakalufs et Yagans, peuples premiers, massacrés, effacés de la Terre par les blancs, auxquels Patricio Guzman rend hommage de manière si belle dans El Boton de nacar
faire la sieste dans une prairie en haut d'une falaise avec une vue sur le canal du Beagle et les montagnes aux sommets blancs chiliennes
des dizaines d'hommes et de femmes pratiquant le karaté sur la plage à quelques kilomètres d'Ushuaia
tremper nos pieds dans l'eau glaciale du canal du Beagle (que wikipedia appelle un accident géographique sans donner plus d'explication)
l'émeraude du Lago Esmeralda
débarquer à Tolhuin, petite ville isolée mais pleine de gens et de chiens errants se rassemblant autour de la panaderia la plus connue de la région (peut-être du fait de son exclusivité !)
les empanadas con pollo achetées à Tolhuin et grignotées dans la voiture avec vue sur le vaste Lago Khami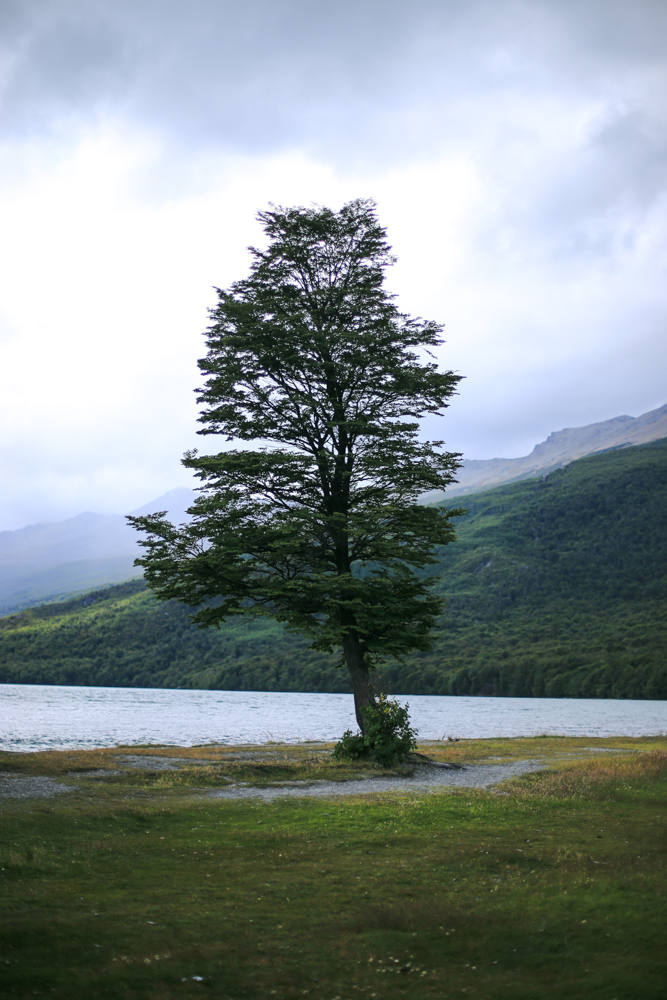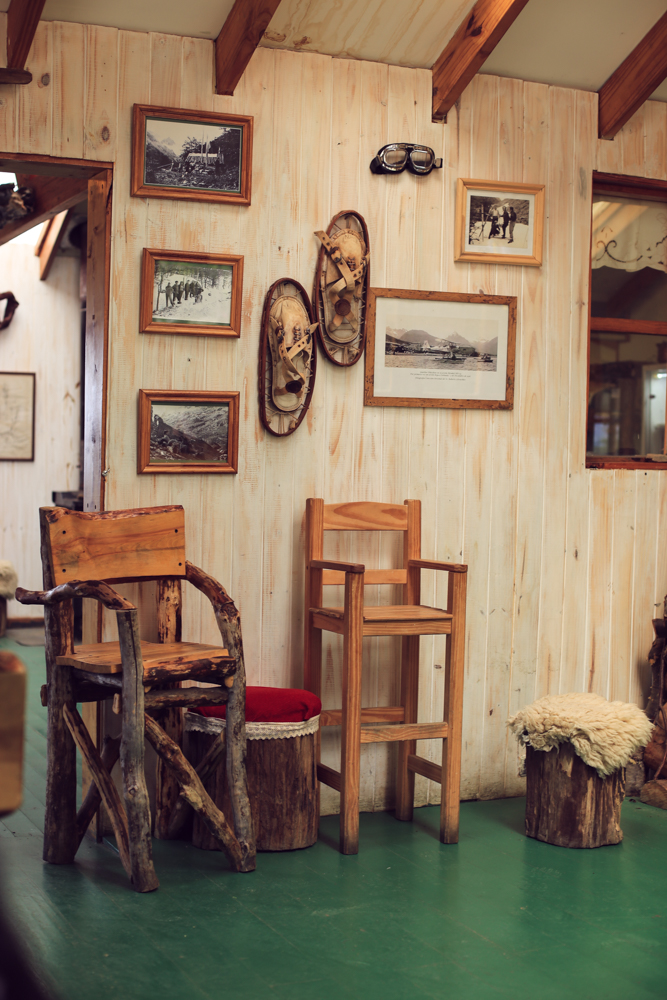 •••
After the mugginess of Buenos Aires' boulevards, the tip of Patagonia materialised itself under us, a promise of beauty and fresh air. Our eye caught fragments of black and white rocks, green and azure waters glimpsed through the clouds' white coat.
In the capital, we searched for the shadow of the giants the acacias that grow like weeds do and invade balconies, even the sixth floor's ones. Don't get too close to buildings' borders or you would risk to receive one or two drops, only just fallen but already lukewarm, from an air-conditioner. We walked a lot, striding along the different neighbourhoods of this city that made me dream so much since this film, Tetro. It is here that I spotted my first budgies, whose lime green feathers were lost in the trees' leaves from the Plaza de las Naciones Unidas. What often remains from a trip are colours. The indigo of the ball shaped light from the Nostalgia café at the corner of our street, the light decorated with white stars which swing in the wind on our last evening there, the only night with a bit of cold air.  The silver bric-à-brac sold by an old couple in San Telmo's Plaza Dorrego. The same shine that I found again a few meters further in the indoor market, in the metal of an already closed butcher's stall. The black graphite marble of the graves which contrast with the limestone's floor of the Recoleta cemetery. Before wandering the cemetery, we had spent some time sitting in the shadow of a tree looking like a Titan with its multiple trunks. Some dogs were joyfully chasing after each other under the amused watch of their owners. During this trip, we spent a lot of time sitting on benches, a time spent soaking the atmosphere of a place, a square, a landscape. Flying over Patagonia, I wasn't feeling the melancholia of these urban moments. I was too happy to reach this end of the world.
And:
our nice taxi who advises us not to reveal your nationality
the first morning, waking up first, being amazed by the view of the heavenly blue Ushuaia's bay enlightened by the early pale yellow sunshine
tomato eggs for breakfast
meeting people while sipping Patagonian ales
the austral light that gives some clarity to each thing it touches
sadness when walking in the Tierra del Fuego National Park thinking about the Selknams, Manekenks, Alakalufs and Yagans, primary people who were massacred, erased from Earth by white people, and to whom Patricio Guzman pay tribute in a beautiful way in his film El Boton de nacar
having a nap in a meadow on top of a cliff with a view of the Beagle Channel and the white topped Chilean mountains
tens of men and women practicing karate on a beach located a few kilometres from Ushuaia
soaking our feet in the icy water of the Beagle Channel
the emerald of Lago Esmeralda
turning up in Tolhuin, a small isolated town filled with people and stray dogs all gathering around the most famous panaderia of the region (perhaps because of its exclusiveness!)
the empanadas con pollo bought in Tolhuin and snacked on in the car with a view on the lago Khami
…