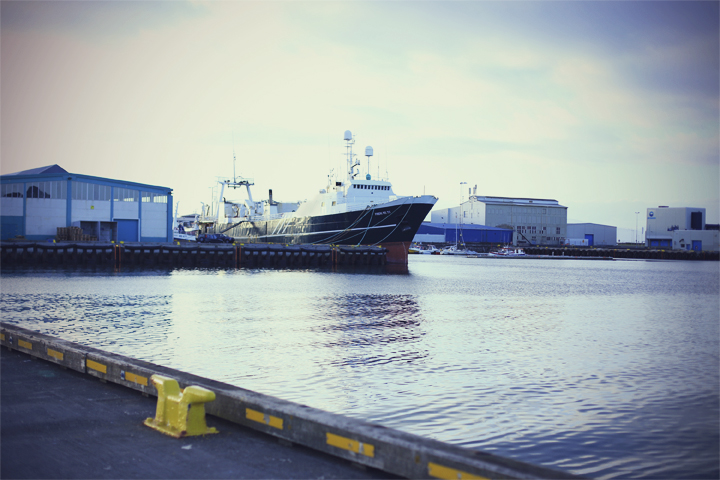 Il y a un an, nous partions en Islande…

A 250 kilomètres du cercle polaire, la capitale se tient silencieuse, entre les cris des mouettes et le brouhaha des touristes, là-bas, dans la rue principale.  A moins que ça ne soit l'inverse ? Le cri des touristes, le brouhaha des mouettes.
Dans le port, ni sirène ni baleine mais des cargos géants qui se dressent au milieu des petits bateaux de plaisance, un peu ridicules face à leurs voisins titanesques.
Le silence. La baie est silencieuse. Le port est silencieux. La plupart des rues le sont aussi. Sauf le ciel et la rue principale, encore une fois bruyants, agités et pris d'assaut par les mouettes. Et les touristes.
Lorsqu'on est levés depuis dix-huit longues heures, que l'on a pris quatre trains, un avion et un autobus, le temps paraît se foutre de nous.  Minuit ressemble à cinq heures du matin, peut-être parce que le soleil luit encore, peut-être parce que peu de personnes hantent les rues, peut-être… On erre sous le soleil de minuit, de bars vides en bars désertés, en attendant qu'ils sortent enfin.
Et puis, il est minuit et demi. Le brouhaha se glisse peu à peu de la rue principale pour pénétrer les bars mal éclairés. Il fait sombre à l'intérieur, comme pour faire semblant que la nuit est enfin tombée. Mais derrière les stores, les rideaux, les vitres sans tain, l'astre fait le pied de nez. Il n'éblouit plus mais éclaire encore le ciel de ses rayons pâlichons. Un groupe lo-fi fait vibrer les parois de la salle, les verres, les corps. Tout le monde est parfaitement attifé, les cheveux très longs pour les filles, les coupes au poil avec la barbe qui va avec pour les garçons. (Je porte des chaussures vertes, une jupe rouge et une veste de pluie bleue fluo mais il fait trop sombre pour le remarquer.)
On change de bar.
La bière était trop gazeuse.
Au-dessus de l'entrée, le signe du métro londonien. L'endroit fourmille, on entend des bribes de conversations dans un langage guttural, à la fois râpeux et musical… joyeux. Un petit homme approchant la cinquantaine me fait un baise-main avant de s'en aller tripoter la paume d'une autre. On le reverra une heure plus tard, se tenant à l'extérieur, en train de s'expliquer avec la police. Sans doute puni pour son trop plein de courtoisie. Un jeune homme avec des yeux très noirs est assis à une grande table, dans un coin de la salle. La banquette a l'air si confortable qu'on ne peut résister. Cela fait dix-neuf heures qu'on est éveillés, et la bière semble posséder les mêmes propriétés qu'un somnifère. D. commence à converser avec lui pendant que j'affronte la foule à la recherche de toilettes. Une fois arrivée, je vois un groupe de filles s'y glisser. J'attends, je regarde autour de moi, je compare les cultures. Tout le monde s'amuse de la même manière finalement… Après ces pensées hautement philosophiques, et un passage bien mérité dans des toilettes d'hommes nauséabonds, je reviens. D. me présente le jeune homme d'une vingtaine d'années, les yeux très noirs donc, les cheveux aussi. D'origine afghane, il a fui, a vécu en Turquie, en Grèce pour enfin atterrir ici. A 250 kilomètres du cercle polaire arctique. Même pas vingt-cinq ans et déjà quatre pays parcourus. Il travaille dans les cuisines d'un restaurant, avec d'autres immigrés. Il ne parle évidemment pas la langue locale. Il est assis seul, à une table bien trop grande pour lui. A-t-il des amis ? Des gens qui se soucient de son existence ? Est-il heureux ? Notre rencontre fût trop brève. Nos paupières s'alourdissaient. Nous le saluions, le quittions, le laissions seul.
Il était deux heures du matin et il faisait plus sombre qu'une heure auparavant. Un ciel sourd entre chien et loup comme une fin d'après-midi d'hiver en France ou en Angleterre. Il n'y aura pas eu de vrai soleil à minuit.
Pour plus de photos d'Islande, rendez-vous ici.
One year ago, we went to Iceland…
250 kilometers from the arctic circle, the capital remains silent between the cries of the gulls and the brouhaha of tourism in the main street. Or is it the opposite? The cries of the tourists, the brouhaha of the gulls.
In the harbour, neither mermaid nor whale but giant cargo ships which stand among small pleasure boats that look a little ridiculous compared to their titanic neighbours.
Silent. The bay is silent. The harbour is silent. Most of the streets are too. Apart from the sky and the main street, once again loud, agitated and assaulted by gulls. And tourists.
When you are awake for eighteen long hours, when you have taken four trains, one plane and a bus, time seems to be laughing in your face. Midnight looks like 5 am, maybe because the sun is still shining, maybe because not many people haunt the streets, maybe… We wander under the midnight sun, from empty bars to deserted ones, waiting for people to finally go out.
And then, half past midnight arrives. The noises slip from the main street to the ill-lit bars. It is dark inside, as to pretend that night has fallen. But behind the blinds, the curtains, the one-way glass, the yellow star thumbs its nose at us. It doesn't dazzle anymore but still illuminates the sky with its peaky rays. A lo-fi band make venue walls, glasses, bodies vibrate. Everyone is perfectly dressed, very long hair for the girls, very well trimmed beards for the men.
(I am wearing green shoes, a red skirt and a bright blue rain jacket but it is to dark to be noticed).
We change bars.
The beer was too fizzy.
Above the entrance door, there is a London Underground sign. The place is teeming with people, we hear crumbs of conversation in a husky language, at once rough and musical. A little man close to his fifties and looking like a cheeky elf kisses my hand before leaving me to fondle with another palm. We will see him an hour later, standing outside, talking with the police, most likely punished for his excessive courtesy. A young man with very black eyes is sitting at a big table, in a corner of the room. The seat seems so comfortable that we cannot resist. It has been nineteen hours since we awoke, and beer now has the same properties as a sleeping drug. D. starts to chat with him while I face the crowd looking for toilets. Once arrived, I see a group of five girls rushing into them. I wait, look around me, compare cultures. Every people have fun in the same way in fact… After these highly philosophical thoughts, and a well-deserved visit to putrid male toilets, I come back. D. introduces the twenty-odd year old to me, with, as already said, very black eyes and hair too. From Afghan origin, he fled, lived in Iran, in Turkey, in Greece and ended up here… 250 kilometers from the arctic circle. Not twenty-five years-old yet and already four countries crossed. He works in the kitchens of a restaurant, with other immigrants. He obviously doesn't speak the local language. He is sitting on his own, at a table too big for him. Does he have friends? People that care about his existence? Is he happy? Our meeting was brief. Our eyelids were getting heavier. We said good bye, left him, let him on his own.
It was two in the morning and it was darker than an hour before. A muted sky, close to dusk, or such as the one at the end of a winter afternoon in France or England. There has been no sun at midnight.

For more photos of Iceland, it's here.